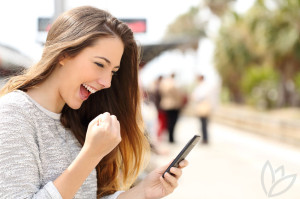 Are you curious about becoming a Wanae Influencer? This rewarding, challenging, and empowering opportunity could be just what you're looking for. Keep reading to discover three great reasons to become a Wanae Influencer:
The timing is right
The U.S. Farm Bill, passed in late 2018, clarified that hemp and hemp products are legal. Since then, interest in CBD oil products has skyrocketed. It's estimated that 64 million Americans have tried CBD, or cannabidiol, products in the past 24 months, according to recent Consumer Reports survey of more than 4,000 Americans. Numerous scientific studies are underway studying the benefits of CBD oil products. Interest — and usage — of CBD is expected to continue to climb in the coming years.
Even more importantly, the timing could be perfect for you specifically. You probably promised yourself at the beginning of the year that this would be the year you took more challenges and followed your dreams. Becoming a Wanae Influencer could be the best way to do that!
Products you can trust
CBD is an amazing natural product found in the hemp plant. According to the Consumer Reports survey, more than a quarter of people in the U.S. say they've tried CBD. One out of 7 said they use it every day! Even more importantly, most of those who have tried CBD reported that it was effective, especially among those who used it for stress and anxiety.
But not all CBD oil companies are created equal. It's estimated that nearly three-quarters of all CBD products available to consumers today are mislabeled. Some contain different amounts of CBD than what is indicated on the label. Others contain ingredients not indicated on the label. Wanae is committed to producing the highest quality, all natural CBD oil and improving the lives of others. Labeling accuracy is our passion, which is why consumers can scan our bottles to get important third-party testing information regarding our formulations.
As a Wanae influencer, you'll be on forefront of providing knowledge about CBD. As CBD products become more popular, more people will have questions about them. You'll be able to educate consumers about CBD and dispel myths that may be holding them back from trying it.
A job you can love
Flexibility is consistently the number one factor people consider when searching for a job, and you'll enjoy a high degree of flexibility as a Wanae influencer. Being an influencer is easy to fit into anyone's schedule. Students can work in between classes and stay-at-home parents can work on their businesses while their children are in school. You can be an influencer as a supplement your full-time job or as a stand-alone business opportunity. It's all up to you!
As a Wanae influencer, you'll have access to powerful digital tools designed to help you build a successful business with residual income. Learn how you can improve your life and the lives of those around you by becoming a Wanae Influencer today.